BWT Pioneer Inverter Horizontal Swimming Pool Heat Pumps
£1,650.00 – £2,850.00 inc VAT
Description
Specifications
Product Literature
Delivery & Payment
Additional information
Description
BWT Pioneer Inverter Horizontal Swimming Pool Heat Pumps
UPDATE 24th April 2021: All Pioneer heat pumps are now out of stock until further notice. Please contact us for alternative models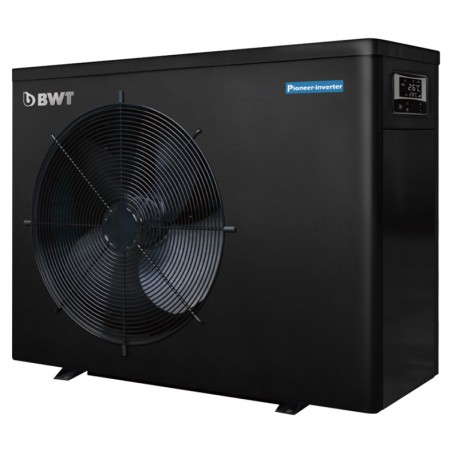 1. Description
We are proud to offer the new BWT Pioneer Inverter Horizontal range of 3 step inverter driven pool heat pumps
BWT are a leading heat pump manufacturer with a reputation for reliability
Inverter driven heat pumps allow the fan and compressor to be run at variable speeds from 25% to 100% depending on the load.
When initially turned on, the heat pump will run at 100% to bring the pool up to temperature.
Once the pool has reached the desired temperature, the inverter heat pump can then reduce and match its output to maintain the pool at the desired temperature.
The ability of the heat pump to be able to modulate its output to suit the demands of the pool can deliver significant cost savings.
2. Features
Inverter technology – 3 stage – variable operating speed
Touch Screen Control Panel
Energy saving
Extremely quiet operation – only 20-37db(A) at 10m (depending on model and power output mode)
Reduced startup current – no soft start required
3 Mode variable speed fan and compressor
Wi-Fi module included as standard
Works down to 0c
Output certified by TUV in Germany
Plastic Coated Casing
Excellent COPs – from 4.1 to 10.6 due to Inverter technology
Comes with drain spout and hose to channel condensation water to a specific location
3. Display
4. Extremely Quiet Operation
The Inverter heat pumps are extremely quiet in operation.
5. Wi-Fi
Wifi connectivity is built in and included as standard on all BWT Pioneer Inverter heat pumps
This allows control and monitoring of the heat pump from a smartphone app which can be used free of charge
6. What size heat pump do I require for my pool?
We have the following BWT  models available:-
| | | |
| --- | --- | --- |
| Model | Max Power Output (Kw | Recommended Pool Size (m3) |
| CPIR08 | 8kw | 15-30 m3 |
| CPIR10 | 9.5kw | 20-40 m3 |
| CPIR13 | 12.5kw | 25-45 m3 |
| CPIR17 | 16.5kw | 30-55 m3 |
| CPIR21 | 20kw | 35-65 m3 |
With inverter pool heat pumps, you should always over size the heat pump as much as possible.
Over sizing the heat pump allows the compressor to run at a reduced output (e.g. 25% to 50%) of its total power and this will then deliver the highest efficiency and the lowest running costs.
7. Specifications
COP And Performance
Also please see Specifications tab at the top of the page
8. Winter Cover
If you would like a more heavy duty winter cover, then these are available from our Accessories section
9. Optional Extras
Heavy Duty Mounting Feet
These heat pumps come with rubber  mounting feet (picture to follow shortly).

Alternatively you can purchase these heavy duty Mounting Feet.

These raise the unit off the ground by approximately 100mm, and also help to reduce vibration.

Please see our Mounting Feet and Slabs section for more information.

Bypass Kit
Please see our Bypass Kits section section for more information.
Winter Cover
We offer a heavy duty cover which will give you added and extended protection against the winter weather

Please see our Winter Cover section section for more information.
10. Hosetails for Above Ground Pools
The heat pump can be fitted with hosetails to take standard 1.5″ (38mm) and 1.25″ (32mm) pool hose for above ground pools
11. Installation
Installation is straightforward. We can provide advice on installing your heat pump. We can also offer an installation service if required.
Please see our Installation pages for photographs of examples of pool heat pump installations and also the FAQ pages for more information11. Availability
These heat pumps are in stock
Delivery will be around 2-3 working days to a UK address.
We can deliver to anywhere in Europe. Please email your address for a shipping quote.
12. Delivery
The price includes FREE UK delivery.
We can ship the Pioneer Inverter plus heat pumps to any country. Please contact us for a shipping quote.
13. Warranty
These BWT Pioneer Inverter heat pumps come with the following warranty:-
2 Years parts warranty on the heat pump in the UK (Labour included in France only)
5 Year parts warranty on the titanium heat exchanger
3 Year parts warranty on the compressor
HeatPumps4Pools also have a network of engineers who can maintain or repair any heat pump
Warranty subject to the unit being installed in accordance with manufacturer's instructions.
14. Technical Support
We are happy to provide technical support for all BWT Inverter swimming pool heat pumps that we supply
15. Product Literature
Please click the links below to download pdf brochures
Please also see the Literature tab at the top of the page for the Brochure and User Manual downloads.
16. Assistance?
If you need any assistance or advice as to which model would be best for your pool, please email us
for more information, also see our FAQs page
All items sold in accordance with our terms and conditions
For all enquiries, please contact us at enquiries@heatpumps4pools.com
COP And Performance
Size Chart
Please click the links below to download pdf brochures
Payment
We accept all major credit and debit cards, Bank Transfer (BACS) and Paypal
Paypal Credit
For details of PayPal Credit please click here: PayPal Credit
Delivery
The prices shown include FREE UK delivery for orders over £50 or £6.50 for orders under £50
We can ship to any country. Please contact us for a shipping quote.
The lead time on most items is normally on a 1-2 day delivery,  subject to availability. Please call to check availability.
Additional information
| | |
| --- | --- |
| Weight | 60 kg |
| KW | 8kw, 9.5KW, 12.5kw, 16.5kw, 20kw |
| Phase | Single Phase |